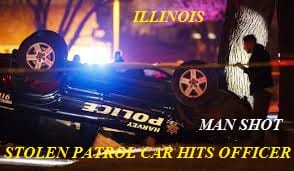 www.sfgate.com
Authorities say a police officer shot and wounded a man who tried to flee from a traffic crash by stealing a police vehicle in suburban Chicago.
Police in Harvey say two officers heard a crash on Wednesday and later spotted two vehicles that had been involved in a head-on collision. Police say three people from one of the vehicles tried to flee, and one man eventually got into a police vehicle.
Harvey spokesman Sean Howard says an officer shot the man. He says the vehicle hit the officer before overturning. The officer suffered an injured foot.
Howard says the man who was shot suffered injuries that weren't life threatening. He was taken to a hospital.
Howard says other officers captured the two other people who fled from the crash.