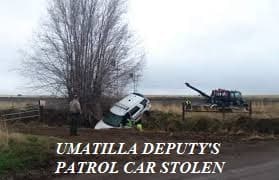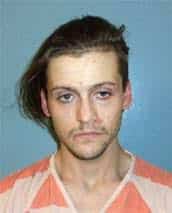 www.eastoregonian.com
A Hermiston man was arrested twice Thursday: in the morning for burglary and trespassing and in the afternoon, after stealing and crashing a sheriff's office vehicle and leading police on a two hour manhunt, for escape, vehicle theft and eluding police.
Christopher Phillips, 23, is behind bars at the Umatilla County Jail facing charges on those crimes and possibly more.
Phillips was first arrested at 8:50 a.m. in a vacant house near 33464 E. Punkin Center Road east of Hermiston. The Umatilla County Sheriff's Office had been called to the area on the report of a suspicious vehicle that a 911 caller said might be related to recent burglaries in the area.
Deputy Chris Daugherty responded and found the vehicle, a red 1994 Ford Explorer, as well as Phillips and Tyler Morris, 19.
Daugherty arrested and handcuffed Phillips and put him in the back seat of the patrol car, but released Morris. He then requested a tow truck to impound the Explorer.
Daugherty stayed in the front of his patrol car until the tow truck arrived, then got out to speak to the driver but left his patrol vehicle running for warmth.
According to a press release from the sheriff's department, Phillips moved his cuffed hands and arms from behind his back to the front, then broke the rear window of the patrol car. Crawling out of the back window and into the driver's seat, he drove away, crashing the vehicle into a small canal nearby at the corner of Tabor and Punkin Center roads.
The patrol vehicle was damaged, but all police equipment was recovered. It was towed away shortly after.
But when police arrived Phillips was gone, and the search began.
Beginning at 10:40 a.m., more than a dozen officers from seven local agencies combed the area, knocking on doors and looking for Phillips. The sheriff's department search and rescue team brought out its drone, and the U.S. Forest Service brought its K-9 unit.
At 1:15 p.m., residents on Cowboy Lane near Diagonal called to say someone was pounding on doors in the area. Deputies found Phillips, now uncuffed, and after a foot chase arrested him near the Short Stop gas station at 32553 E. Punkin Center Road.
Umatilla County Undersheriff Jim Littlefield said he did not know the exact route Phillips took from where he had crashed to where he was arrested or how many doors Phillips knocked on, but said none of the residents opened the doors or interacted with Phillips.
Littlefield said they searched the area from Tabor Lane and Punkin Center Road to the junction of Punkin Center and Diagonal roads. He estimated between 15 and 20 law enforcement officials joined the search, including Hermiston, Stanfield and Umatilla police, Oregon State Police, Umatilla County Community Corrections and the U.S. Forest Service.
Littlefield said further charges may be added, potentially property damage or theft.
"Depending on what we learn, in his trajectory from the crash to where we apprehended him, he may have committed other crimes," Littlefield said. He was not sure if Phillips was under the influence of any drugs.