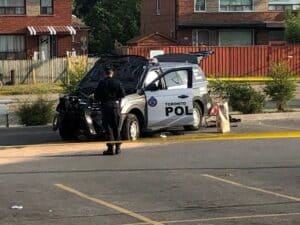 www.glocalnews.ca
Officers say a suspect stole a Toronto police cruiser with two police dogs inside the vehicle early Monday.
A Toronto police spokesperson said officers were called at 4:20 a.m. for a break and enter at a business in the Yonge Street and Lawrence Avenue area.
Peter Dickson, the owner of Paradise Comics, told Global News the suspect allegedly threw a rock through the window of his shop, and stole rare, vintage comic books.
He said the scene early Monday was like something out of a "crazy movie."
When the suspect was inside for the third time, a police officer from the K-9 unit arrived and tried to chase him down.
Dickson said the suspect fled on foot down an alley behind Yonge Street, and into the backyard of a home on Brookdale Avenue.
The person was handcuffed at the front, the source said, and managed to break free from the officer. They ran to the police vehicle and made off inside it, according to a police source.
Officers said the SUV cruiser then got in a single-vehicle crash in the Keele Street and Lawrence Avenue area.
The damaged vehicle was seen in the parking lot of a Metro grocery store near the intersection.
Acting Insp. Craig Young said the suspect got out of the cruiser after the crash and approached "a number of vehicles," including a taxi, trying to get inside.
One of those vehicles was a City Taxi.
Neil Shorey, assistant general manager of City Taxi, told Global News one of his drivers was sitting in a cab when a man in handcuffs began "busting the windows."
"He was trying to get into the vehicle to continue the flight," Shorey said.
He told Global News that after the incident, the driver — an elderly man — was taken to hospital, fearing he may have suffered a heart attack.
Young said the suspect was taken into custody and transported to hospital with non-life-threatening injuries.
Toronto paramedics told Global News they transported one patient to a trauma centre and another patient to a local hospital.
"Certainly it was an audacious move on somebody to take a police car and engage this kind of activity. It's just, it's extraordinary," Young said.
The police dogs were uninjured.
"Anybody with video footage from their vehicle or from their security cameras for their home — we're looking for that. Please call police or call Crime Stoppers at (416)-222-TIPS if you want to offer any information with respect to this occurrence," Young said.
In an update Tuesday, police said 32-year-old Zenon Klein-Oram of no fixed address has been charged with break and enter to commit, assault with intent to resist arrest, escaping lawful custody, theft of a motor vehicle, dangerous operation of a motor vehicle, flight while pursued by a peace officer, two counts of possession of property obtained by crime, two counts of robbery and two counts of failing to comply with probation.
Officers said he appeared in court for a bail hearing on Tuesday.