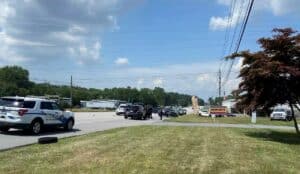 www.pennlive.com
Suspects in state police car theft were ferrying drugs at time of initial stop, police say
Hanif Hall, 30, of Harrisburg , was already the target of a drug trafficking probe, according to court records.
This photo shows the aftermath of a police chase involving a stolen State Police cruiser, where the stolen vehicle finally stopped in the 700 block of the Carlisle Pike, Silver Spring Township, on Aug. 4, 2022. The suspect ran away from this crash scene, and was the subject of a manhunt for more than two hours before he was arrested. Photo provided by Mary Duran.
The men arrested Thursday afterstealing a Pennsylvania State Police squad car and leading police on a wild chase through central Cumberland Countywere originally stopped, and ultimately decided to flee from, a car that was packed with heroin and other illegal drugs, according to a search conducted by police Thursday evening.