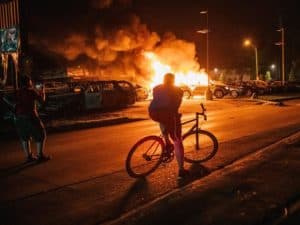 www.americanmilitarynews.com
Rioting continued in Kenosha, Wisconsin Monday night following a police shooting incident on Sunday.
The civil unrest comes after Kenosha Police Department officers shot a Black man, Jacob Blake, during an incident Sunday. After a video of the shooting incident went viral on social media, rioters took to the streets in Kenosha County and began smashing windows and setting fires to local businesses.
In the first night of rioting, on Sunday, rioters set fire to a car dealership.
On Monday, Daily Caller reporter Jorge Ventura tweeted a video showing the extent of the fire damage at the car dealership.
After the rioting Sunday, Wisconsin Gov. Tony Evers called on the Wisconsin National Guard to assist local authorities on Monday. KPD also declared a curfew, beginning at 8 p.m. Monday night.
Despite the guard deployment, rioting continued for a second night on Monday.
In one incident a police car was said to have been stolen by rioters. A Twitter user shared a video of the incident, "They stole a cop car in Kenosha."
"DEVELOPING: Tensions rising in Kenosha, Wisconsin tonight as demonstrators & rioters face off with National Guard & police. The imposed curfew is being ignored," Breaking911 tweeted.
Daily Caller reporter Shelby Talcott tweeted footage of a furniture store set on fire in Kenosha. "A closer look at just one of the buildings (the local furniture store) currently up in flames in Kenosha tonight."
The Daily Caller also tweeted a video of armed citizens standing outside local businesses Monday night. "A group of guys in #Kenosha armed with guns are protecting a local business from rioters: 'We're out here trying to protect residents, we're trying to protect the innocent people and we're trying to protect the businesses of the citizens out here…'"