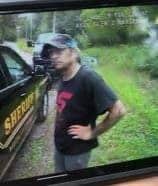 www.journal-news.net
According to a media release from Morgan County Sheriff K.C. Bohrer, a Morgan County and Frederick County, Virginia, suspect fled from police in a sergeant's cruiser.
Information was requested for the man's arrest, who last fled on foot. He was later arrested without incident around 7:50 p.m.
At approximately 12:30 p.m. Thursday, Sgt. Lemon was dispatched to a reported theft on Spielman Road. On scene, he met with the two complainants in a Ford truck.
During the course of his investigation, he learned both complainants were wanted from Frederick County, Virginia, on felony drug charges and placed them under arrest.
They were handcuffed and placed in his patrol SUV, with the male suspect in front of the cruiser and the female in the rear. The female subject was removed from the rear of the cruiser to assist Sgt. Lemon with the suspects' vehicle.
At this time, Sgt. Lemon observed the male subject take off in Lemon's 2019 Dodge Durango police SUV. The female suspect remained with Sgt. Lemon, and Sgt. Lemon immediately notified Morgan E911.
Sheriff Bohrer, Capt. Stapleton and Sgt. Nazelrod, with the West Virginia State Police, initially responded to the area.
A broadcast was put out on the stolen police vehicle to area units in the Eastern Panhandle and also Virginia and Maryland. Approximately 20 minutes after the suspect fled in the patrol SUV, Sgt. Nazelrod found the stolen vehicle on Eppinger Road.
The fleeing felon was not in the vehicle.
Police units responded from the Hampshire and Berkeley County sheriff's departments, Frederick County Sheriff's Department, Virginia, Eastern Panhandle Violent Crime Task Force, Martinsburg City Police, Morgan County Deputy Reserves and West Virginia State Police from several area counties.
Chief Deputy Walter and bloodhound "Sam" responded to attempt K9 tracking. Chief Walter coordinated other K9 units to search from Berkeley County Sheriff's Department and Frederick County, Virginia Sheriff's Department.
Various vehicle, foot and K9 searches took place in the entire region, but the fleeing felon was not located at that time.
The male was identified as Foster Crouse Miller, Jr., 42,  who goes by "Junior." He is described as a white male with brown hair and blue eyes  
Miller is wanted as a fugitive from justice in Frederick County, Virginia, and charges are forthcoming for grand larceny of police SUV and felony escape.
The female suspect is identified as Victoria C. White, 26, who was charged as a fugitive from justice and is currently incarcerated in the Eastern Regional Jail with no bond.