www.newzjunky.com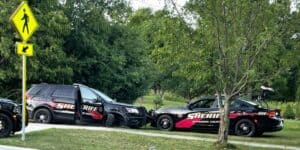 A high speed pursuit in the county involving a stolen Jefferson County sheriff's patrol car ended with a collision, small vehicle fire and the capture of the suspect at Thompson Boulevard and Gotham Street in Watertown.
The pursuit began in the city of Watertown shortly before 6:00 a.m. Monday then led south on Interstate 81 to exit 41 at Adams then back north on US Route 11 through Public Square and ending in a crash into the front lawn of 290 Thompson Boulevard at about 6:16 a.m.
At one point the chase was headed south in the northbound lane of Interstate 81 in the town of Adams.
The driver of the stolen patrol car was taken into custody and transported to the Metro-Jefferson Public Safety Building.
The stolen patrol car was exceeding over 100 mph during the chase, according to Jefferson County 911 radio traffic.
The Jefferson County Sheriff's Office has not released further details at this time.
Deputies were assisted by state police, Watertown Police Department, Adams Village Police Department, City of Watertown Fire Department, City DPW Department, Oswego County Sheriff's Office, and National Grid.