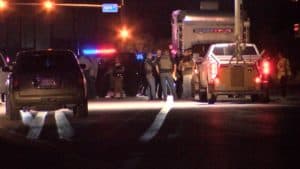 www.cbs7.com
Odessa Police say that at around 8:00 p.m. Thursday evening, Officers were conducting a narcotics investigation when a male subject evaded in a dark-colored SUV. Officers were able to locate the vehicle at I-20 and Meadow, where the vehicle appeared to be stalled.
Officers were in the area looking for the subject when an Odessa PD unit was stolen and driven away by the actor.
The OPD unit and actor was located wrecked out at W. 18th St and Moss Ave. During this event, Odessa Police Department officers fired their duty weapons at the actor.
As with all officer-involved shootings, this investigation has been turned over to the Texas Rangers.
Odessa Police this is an on-going investigation.
Police have not released the name of the suspect arrested. Also, no word on if anyone was hurt.
ORIGINAL STORY:
Odessa police are investigating an incident that may involve several different scenes on Thursday night.
According to the Odessa Police Department, it all started with a chase along I-20.
The chase made its way into West Odessa and ended near Moss and 18th.
The Ector County Sheriff's Office tells CBS7 that one person was arrested.
The area around Moss and 18th is blocked off to traffic as police continue their investigation. Police say there is no immediate threat to the public.
No other details are available at this time. More information is expected to be released tomorrow morning.