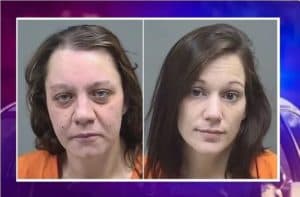 www.wfmj.com
Authorities are looking for two 35-year-old women from Struthers after police say one of them crawled into the front of a police cruiser and drove away.
According to a police report, an officer was preparing to take Tara Oder and Linda Bennett from the city hall to the county jail on Wednesday.
Both women were handcuffed when Oder ran away, turning around and smirking at the pursuing officer, according to police.
After a foot chase, police caught Oder and put her in the back seat of a Struthers police cruiser with Bennett.
The Struthers officer says he was about a block from the jail when Oder squeezed through the partition window of the cruiser, grabbing both the steering wheel and the officer's gun.
During the struggle, the officer says he managed to put the car in park and called police dispatch to report what was happening.
Officer says he still had his gun when he stepped out of the car. That is when police say Oder stepped on the gas and sped away, nearly striking the officer and an off duty sheriff's deputy who had stopped to help.
Hopping into the deputy's personal vehicle, the officer and the deputy followed the stolen cruiser north on Belmont Avenue until they lost sight of the speeding police car.
The cruiser was found abandoned in the Arlington Heights area of Youngstown. Inside they found the belongings of the two women, but the officer's cell phone was missing.
The cell phone was traced to a grassy area outside the Rescue Mission on Martin Luther King Boulevard.
Witnesses told investigators they had seen two women with t-shirts wrapped around their wrists outside the mission.  They said the women left on a WRTA bus.
Police are going to file escape charges against the women who at last report were still on the loose.
According to court records, Oder was already charged with having expired plates and driving without a license. Bennett faced a theft charge.