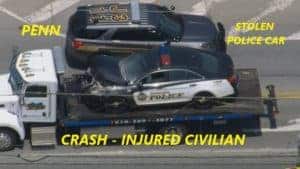 www.philadelphia.cbslocal.com
Investigators say a man will face charges after stealing a police car and then crashing into another car in Chester County. Chopper 3 was over the scene in Coatesville.
Police first responded to a domestic disturbance call at West 5th Avenue.
They say the 19-year-old suspect, Alex Thompson, was uncooperative, stole a police car and then drove off.
Police say Thompson eventually crashed into another car on a highway near the VA Medical Center.
The driver of that second car was taken to the hospital.
Police say multiple charges are pending in this case.