www.wfmj.com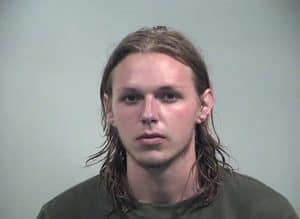 A Warren man is in jail, accused of a violent vehicle theft followed by a high-speed police pursuit that included stealing a police car.
It all began Sunday afternoon when a 54-year-old Warren man says he was attacked outside the Dollar General Store on Niles Road by someone demanding that he turn over the keys to his Jeep Wrangler.
The victim told police that he was struck on the head and then choked until he passed out. When he came to, the Jeep was gone.
Warren Police spotted the Jeep and, according to the report, chased at speeds up to 100 miles per hour.
The Jeep crashed in Portage County and police handcuffed 21-year-old Nathaniel Crew of Warren.
The chase was not over yet.
Police say Crew managed to get his handcuffs to the front of his body and slid into the front seat of the Warren Township Police cruiser before driving away.
After another police pursuit, police managed to stop the stolen cruiser and once again arrest Crew.
As of Monday morning, Crew remained in the Portage County Jail.
So far, Warren Police have charged Crew with aggravated robbery.  Warren Township Police have charged him with failure to comply with the order of a police officer.
The victim, who had a three-inch cut on the top of his head, was treated for head injuries at St. Joseph Hospital.