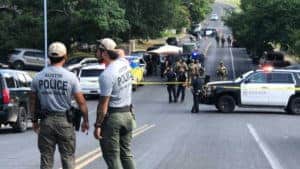 www.kxan.com
Police say a reported mail thief escaped from police custody, stole an Austin Police Department vehicle and then broke into a series of homes Thursday afternoon as he tried to hide from officers.
The suspect, guarded by multiple APD officers, was taken away in an ambulance to be checked out before being taken to the Travis County Jail, APD says. Residents of the neighborhoods within a one-mile radius of the 1300 block of Southport Drive were told to shelter in place before 9 a.m. and were finally able to return to their homes before 2 p.m.
First calls about mail theft
APD Officer Michael Bullock said around 3:13 a.m. officers went to apartments on the 3800 block of South Lamar after someone reported a man stealing from a mailbox. Officers found a suspect but say he ran from them, then later "was actively resisting" as he was taken into custody. He was taken to the hospital "as he was believed to be under the influence of some type of narcotic."
He was treated and released, and officers planned to take him to Travis County Jail. That's when Bullock says he started to run away.
Bullock said the man headed toward Ben White Boulevard and tried to get into passing cars. He was able to get into an APD patrol unit and drove to the Southport Drive area.
Bullock said APD is looking into how he was able to get into a squad car. He added that there was a shotgun in that car, but it was locked up and the suspect did not get access to it.
Barricaded in two homes
Bullock credited members of the community for helping officers find the suspect after he broke into a home. When SWAT officers arrived, they tried to contact him, but Bullock said he wasn't cooperative. He ran from one home to another.
Ethan Guion, who lives next door to the second home, said he saw the suspect run into the alley.
"The officers just jumped because they weren't expecting it," Guion said.
In both situations, APD was able to get the residents out of the homes. Bullock addressed the concern that the suspect was able to move between homes, noting the houses being close together made it hard to "set up containment on one house" but that the suspect was not able to get far.
SWAT officers eventually went inside and took the suspect into custody. He was taken to the hospital again for evaluation and then will go to jail, Bullock said. Multiple officers are with him "because he's a demonstrated escape risk."
APD did not name the suspect and said they don't believe he lives in the area. Bullock said he likely faces a number of charges, including mail theft and evading arrest. He also said the man had multiple felony warrants.
A father's plea
A man who identified himself as the father of the suspect told media he had been "pleading with officers since 9 a.m." to speak to his son using a bullhorn,
"My fear is him getting hurt," Thomas Hernandez said, adding he believes he can get his son to come out but that the 36-year-old "fears APD." Hernandez said officers on scene told him he can't speak to his son because of department protocols.
"He's a good person, real good person," Hernandez said. "He just doesn't trust APD."
Bullock said police had spoken to the man's family but because of department protocol do not let family members speak to a barricaded suspect directly. Instead, APD acts as an intermediary.
"We're not going to let anybody go inside and potentially risk them getting harmed or anything like that," Bullock said. "So, I understand that it's frustrating to some family members but the things that we do and the methods that we use are to protect everybody, including the suspect as well as his family members."