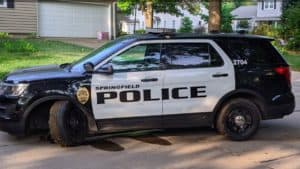 www.ky3.com
It was an early morning wake-up call for the Brentwood South neighborhood in southeast Springfield.
"I woke up to tires screeching in the yard, and then I heard a couple of bangs and I thought someone was in an accident," said Natalie Seever.
Natalie Seever said when she went to her window, and saw a Springfield squad car sitting across the street.
"Nothing was moving. I didn't see him get out and the door was shut. I think I heard the door slam then he ran off on foot," said Seever.
Seever thought the officer was chasing someone, but it turns out someone stole the squad car. It started several miles east near Primrose at Jack Henry and Associates.
Lieutenant Robert Byrne said officers were looking for a thin, white man around 5′ 8″. When they tried to talk to him, he ran.
"Another Springfield police officer saw him on foot. The officer stopped his vehicle, exited his vehicle and pursued the suspect on foot to attempt to detain him. It can't be 100% sure but it appears the suspect possibly circled back and got into the unsecured vehicle," said Lieutenant Robert Byrne with the Springfield Police Department.
The suspect drove and crashed the SUV in Seever's front yard on Rosebrier Street and took off again.
"We established a perimeter, attempted a K-9 track and it was unsuccessful. We didn't get a description but he was not apprehended at this time," said Lt. Bryne.
Byrne said they're still investigating to find the suspect. Seever is thankful no one was hurt.
"People walk their dogs. It's so quiet. We have a lot of elderly walkers and they could of gotten hit," said Seever.
Bryne isn't sure if the officer left his squad running or if the keys were out to see. SPD's handbook said no officer should leave a running squad car unattended.​
"These are real dynamic and very fluid and rapid situations. To think they can always do that and say it occurs 100% of the time obviously it probably doesn't occur 100% of the time. As far as in trouble or discipline I won't be able to speak of that at this time," said Byrne.