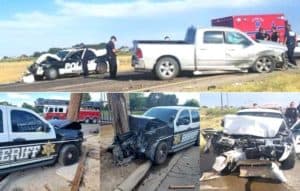 www.rdrnews.com
A man was taken into custody late Thursday after he stole a Roswell Police Department unit and led multiple law enforcement agencies on a high-speed chase throughout Chaves County that ended near Artesia.
When the chase ended, one Chaves County deputy and a civilian were injured, according to Chaves County Sheriff Mike Herrington.
New Mexico State Police, who along with Roswell police and
Chaves County deputies, were involved in the pursuit, and are handling the investigation given that the chase crossed county lines. As of 10 p.m. NMSP were in the process of obtaining a warrant so the suspect could be officially arrested on multiple criminal counts.
The name of the suspect has not been released.
Herrington told the Roswell Daily Record that the pursuit began at about 4:15 p.m., when a Roswell police officer conducted a traffic stop on the individual.
While the officer was attempting to talk to the individual, he got into the police unit and sped off, with firearms in the unit, spurring a pursuit with various law enforcement agencies across Roswell.
Near Country Club Road and Washington Avenue, a sheriff's unit in pursuit of the stolen police unit swerved to miss a civilian vehicle and ended up crashing into a utility pole. The deputy was later transported to a local hospital with what Herrington described as moderate head injuries.
The pursuit continued along multiple roads before ending on Cottonwood Road where black smoke began coming from the engine. The stolen unit swerved into northbound traffic, plowing headlong into a pickup truck, whose driver sustained minor injuries, a message posted on the Sheriff's Office Facebook page stated.
Herrington said the driver then got out and attempted to flee on foot but was apprehended a few yards from the scene of the collision with the pickup.