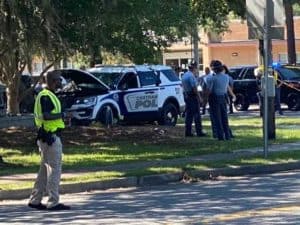 www.wjcl.com
On June 17, 2021, just before 3:00 p.m., a Chatham County Police Department (CCPD) patrol officer was dispatched to the area of Highway 204 and I-95 for a report of a suspicious vehicle. Upon making contact with the subject, the CCCPD officer determined that the suspect was wanted on warrants out of Virginia.
As the CCPD officer continued his contact with the suspect, a scuffle ensued, and the suspect pulled a gun on the CCPD officer. The suspect then jumped into the officer's patrol vehicle, and sped away from the scene in the patrol vehicle. The CCPD officer did not fire his weapon, and did not suffer any injuries as a result of the incident.
The Chatham County Police Department and Georgia State Patrol pursued the suspect. The pursuit ended at the intersection of Victory Drive and Bee Road in Savannah, where there was an officer-involved shooting between the Georgia State Patrol and the suspect.
The investigation into the officer-involved shooting is being handled by the Georgia Bureau of Investigation. CCPD will not be releasing any further details."