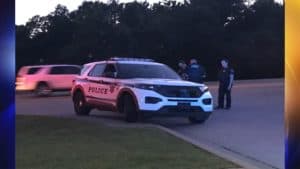 www.fox23.com
 Tulsa police say they arrested one person after a chase with a stolen marked police SUV Thursday night.
Police say the incident started near 71st and Mingo when they were responding to a burglary in progress call at a nearby store. When the officer got out to investigate, someone jumped in the car.
It is unclear if the person accused of taking the car is the burglary suspect at this time.
The chase went onto Highway 169 and the Creek Turnpike, and ended at 96th and Riverside.
Officers say there were 2 guns in the vehicle.
One witness says she saw the driver run a stop sign and almost hit somebody in the stolen police car
No injuries have been reported.