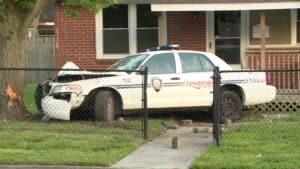 www.wtkr.com/
Chesapeake Police have arrested a suspect who they say shot at an officer while being tased, stole a police vehicle and led them on a chase that ended in a crash Tuesday evening.
Just before 7 p.m., officers responded to a home in the 2200 block of Farmer Lane in reference to a complaint of an armed person who made threats. The officers found the suspect vehicle in a parking lot at a shopping center at Border Road and Campostella Road with males standing near the vehicle.
One of the officers was familiar with the suspect, identified as 48-year-old Isaac Mantel Sampson, and recognized one of the males as the suspect, but police say Sampson refused to identify himself. As the officer tried to put Sampson under arrest, Sampson resisted.
During a jailhouse interview Wednesday afternoon, Sampson said he didn't understand why the officer was trying to arrest him.
"He told me he wanted to talk," he said. "It went from, he wanted to talk, to him grabbing me, telling me to put hands over my head. That's when I got confused and got combative."
The officer drew his taser from its holster and gave Sampson verbal commands. Police say Sampson pulled a gun from his waistband and fired three shots at the officer.
Sampson apologized from jail and said he didn't mean to hurt anyone. He said he didn't fire at the officer, but admitted that he fired his gun.
"I did not try to hurt or shoot at the officer," Sampson said. "I apologize to him, his family but my intention was never to shoot at him."
The officer then tased the suspect while Sampson was in the middle of shooting. After he was tased, police say Sampson got into the police vehicle and started driving away as other officers arrived on scene.
"I wanted to get away," said Sampson. "I thought I was getting away from the scene."
The other officers chased after the stolen police vehicle for about two blocks until the pursuit ended with Sampson crashing the vehicle.
Sampson said he was disoriented when he crashed.
"It was fuzzy," he said. "I went blank."
Clay Holley was sitting in his driveway when Sampson crashed through his fence into his tree on his front lawn.
"I was shocked, very shocked," Holley said. "The guy got out of the car and was saying some things. I was like, 'Not here.' They had their guns drawed. Police had their guns drawed."
Officers then took Sampson into custody. He is currently under arrest.
"I just got to deal with this situation the best way I can," said Sampson. "I never really set out to hurt nobody and if anybody feel like I did, I apologize and I'm truly remorseful for what happened."
According to Sampson, the incident started when he picked his girlfriend up from work and they got into a fight as they drove to her apartment. Sampson claimed he told her to leave him alone, then she called the police.
He said he never threatened her life.
"I just told her leave me be," he said. "It might have sounded like a threat to her. We say a lot of things in the heat of the moment but she know I'm not going to hurt her. I never physically caused any harm to her."
The department says no officers fired shots during this incident. The only injury was a minor injury the suspect sustained after being tased.
"They broke my finger and burned me real bad," Sampson said.