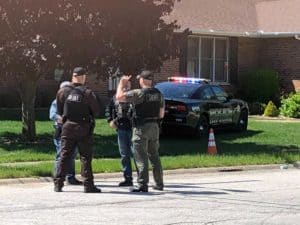 www.nwitimes.com
A man is at large after he stole a Lake Station squad car and led a chase Wednesday afternoon, police said.
The Lake Station cop car was ditched on the lawn of a home in the 2200 block of Marshall Boulevard in Gary, and the suspect took off on foot, police said.
Around 1 p.m. a Lake Station officer attempted to stop a maroon Chevrolet that was speeding, traveling 63 mph in a 45 mph zone at Hobart and Melton roads, said Lake Station Chief of Police James Richardson. 
The vehicle fled, going briefly onto the Indiana Toll Road toward Gary. The driver barreled through a gate arm at the toll plaza at the Gary exit, ISP said.
The vehicle came to a stop near 23rd Avenue and Massachusetts Street in Gary, where police took all occupants into custody. Police arrested the driver, a 21-year-old Gary man, and put him into handcuffs in the back of a squad car. 
As police were speaking to the other occupants of the vehicle, the Gary man got his hands in front of his body and climbed into the driver's seat of the police car and drove away, Richardson said. 
Police chased the stolen squad car and the vehicle came to a stop in the front lawn of a house near 23rd Avenue and Marshall Street, police said. The suspect had jumped out of the squad car and was gone by the time police arrived.
Lake Station, Gary and Lake County police gathered outside the home as they searched for the man. The Lake County Sheriff's Department's helicopter also was seen searching the area.
Police dogs were called to the scene and they tracked the scent to a home in the 2300 block of Ellsworth Street in Gary, and police have discovered the suspect lives in the area, Richardson said. 
The suspect was not found, but authorities know the man's identity and several criminal charges are being pressed against him, Richardson said. A warrant will be issued for his arrest, in which police will release his identity after formal charges are filed.
The squad car was undamaged and no items were taken from it. 
This is a developing story. Check back at nwi.com as more information becomes available.