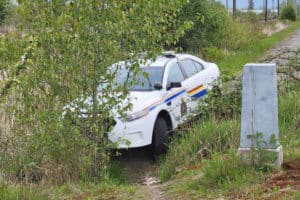 www.langleyadvancetimes.com
An officer was driving on Glover Road when he observed an individual riding a bike he knew to be wanted on an arrest warrant.
The officer pulled his car over stopping the male and his female companion from continuing down the road.
When the officer went to arrest the man, there was a struggle.
The woman got in the driver's seat of the police car.
The male suspect was able to break free of the officer and joined the woman in the car.
The car ended up in a ditch at Glover Road and the Mufford Overpass rail crossing, where the two would-be car thieves exited the vehicle and fled on foot.
It was their bad luck that the Lower Mainland Integrated Police Dog Services and ERT happened to be in the area and able to assist in tracking the suspects.
The male suspect was taken into custody and the female was taken to hospital for medical treatment "as she appeared to be in some distress," RCMP Cpl. Holly Largy said.
Police will prepare a report to Crown counsel detailing the day's events and the BC Prosecution Service will determine what charges the 23-year-old male and 36-year-old female will face.
A Porsche seen on a tow truck at the scene was not connected to the incident, police said, except that the towing company had been called to the scene for the cruiser.