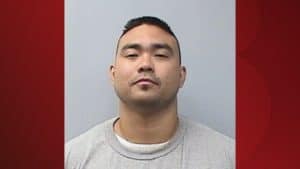 www.fox13now.com
A man and woman are in custody after authorities say the man got into a shootout with police on Interstate 15 in Juab Co. Wednesday, injuring a bystander and forcing the highway to be shut down for hours.
Juab County Sheriff Douglas Anderson said deputies pulled over James Klein of Minnesota just south of the Yuba Lake State Park exit on I-15 northbound.
They pulled over the car with Minnesota plates for "criminal reasons," the sheriff said. He could not provide more detail on those reasons.
"During the course of that stop, the suspect they had detained was able to steal a deputy's truck," Sheriff Anderson said.
A K-9 officer was inside the back of the SUV at the time, he said, when Klein stole the vehicle.
There were two deputies riding in the SUV, and Sheriff Anderson said both were left behind on the side of I-15 as Klein took off.
Utah Highway Patrol said troopers quickly responded for backup, and chased the deputy's vehicle to the Yuba Lake State Park exit. According to authorities, Klein crashed the patrol SUV in the intersection between the off- and on-ramps, and the road leading out to Yuba Lake.
"The suspect came out of that vehicle, produced a firearm, there was an exchange of gunfire between that suspect and our two troopers that were on scene at the time," said Utah Highway Patrol Colonel Michael Rapich.
During the shootout, Col. Rapich and Sheriff Anderson said a bystander was shot by Klein. According to UHP, the person was shot in the leg and taken to a local hospital for treatment. It's unclear if the bystander was in a car driving on the highway, or was somewhere else at the time he was hit.
A UHP trooper's car took in several bullets, but Col. Rapich said the two troopers were not hurt during the shooting. Sheriff Anderson said the K-9 officer trapped in the back of the stolen patrol SUV was also okay.
Klein disappeared, and a chaotic, intense hours-long manhunt began.
Multiple agencies across Juab, Utah, and Millard Counties, as well as from the Department of Public Safety and State Bureau of Investigations raced to the area.
The SWAT team from Utah County responded, as did two helicopters and a fixed-wing aircraft to search from the air.
Because of the broad search area, I-15 completely closed to traffic in both directions from the Mills exit at mile marker 207, down to Scipio.
Hundreds of cars and trucks sat stranded during the course of the search.
Sheriff Anderson said they spotted Klein hiding in the Sevier River around 7:30 pm, across I-15 southwest of where the shooting took place. Authorities took him into custody without any issues.
At that point, they discovered Klein was injured. Col. Rapich said it appeared Klein's injuries came from the gunfire.
Anderson said Klein has an extensive violent, criminal history.
"He's had involvements with other law enforcement agencies, state and federal as well," Sheriff Anderson said. "So, he's a dangerous man."
A search shows that Klein was involved in a shooting with police at a Walmart in Minnesota in March 2020. Klein was accused of stealing from the Walmart after buying large amounts of ammunition, according to court documents, and then shot at two officers when they tried to catch him in the parking lot.
In that incident, court documents outline that Klein was shot in the leg and hand by officers.
Court documents state Klein was already banned from owning or possessing firearms because of prior felony convictions.
The woman in the car with Klein during Wednesday's situation was taken into custody, Sheriff Anderson said. There were not other details they could release about her.
UHP says there are no further threats now that Klein has been taken into custody safely.
An Officer Involved Critical Incident protocol team from the Utah County Sheriff's Office is investigating the incident.
"Considering everything that happened, we're really happy with where we're at right now," Col. Rapich said.