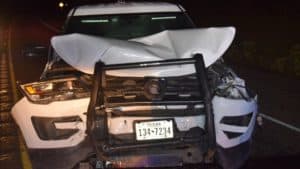 www.12newsnow.com
 A Newton Police officer was airlifted to a Beaumont hospital early Tuesday morning after being struck head-on by a stolen Newton County Sheriff's Office cruiser.
One man is in custody after a 12-mile chase that ended when the suspect struck the Newton officer's cruiser head-on according to a new release from the Newton County Sheriff's Office.
The officer was taken to a Southeast Texas hospital by helicopter with head injuries but was released by 6 a.m. according to the sheriff's office.
The chase began when a Newton County deputy stopped a driver near the Newton County courthouse because of a "welfare concern" the release said.
The male driver, who refused to respond to deputies, got into a scuffle with deputies and then jumped into a deputy's cruiser and took off according to the release.
A Newton Police officer then gave chase to the man in the stolen Newton Sheriff's cruiser headed south down Highway 87 the release said.
After leading officers on a 12-mile chase the suspect made a u turn and then rammed the Newton Police cruiser head-on.
The suspect then jumped out of the heavily damaged cruiser and ran into the woods the release said.
Officers chased the man down and took him into custody before taking him to Jasper Memorial Hospital to be checked out before being taken to the Newton  County jail according to the release.
The name of the suspect, who remains in the Newton County Jail, will not be released until he has been arraigned.
Deputies are continuing to investigate the incident.