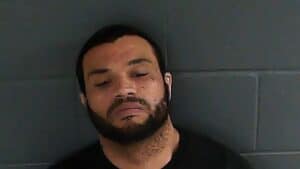 www.wkyt.com/
Authorities in Daviess County have confirmed an Owensboro police officer was shot on Saturday night.
Police say he's Officer Jacob Chesher.
He was released from the hospital Sunday, but police say a timeline for his recovery is not yet known.
Police say he's been an OPD Officer for two years.
"It was a pretty massive manhunt for several hours," Officer Andrew Boggess with the Owensboro Police Department said.
According to police, officers were sent to investigate a suspicious person at the Eagles gas station at the intersection of 18th and Triplett Streets.
OPD says that person has been identified as 32-year-old Bronson Lindsey of Rockport, Indiana.
Police say an arrest warrant was obtained for Lindsey while agencies searched for him in Spencer County where he was last seen.
According to a press release, Lindsey was found and arrested on Sunday at around 5:10 a.m.
OPD officials say Lindsey and his vehicle matched the description from a reported robbery earlier in the day Saturday at Franey's Food Mart on East 25th Street.
Police say when officers began questioning Bronson, he started a physical altercation with officers.
"He ultimately became combative, and fighting with the officer, at which point he had a handgun concealed on him, which he produced and fired one round, struck our officer," Boggess said.
According to OPD officials, Bronson then stole a police vehicle belonging to the officer and fled the scene.
"He was able to get on the radio, inform dispatch that shots had been fired and he had been struck," Boggess said. "While he's in the process of doing that – trying to retrieve his weapon and react to that – the suspect got into his police cruiser and took his police cruiser. Ultimately, we found it a very short time later over in Spencer County, Indiana."
Sgt. Dave Henderson with Indiana State Police also confirmed Lindsey fled to Indiana, saying multiple troopers were sent to Spencer County in reference to Lindsey.
"We received, I believe it's going to be in the dozens, maybe even more than that of tips, many of which identifying this individual specifically," Boggess said.
The Spencer County Sheriff's Office, Jasper Police Department and Santa Claus Police Department also assisted with the search for the suspect.
Officer Chesher and Owensboro Police say they would like to thank the community for the concern, support and assistance in identifying Lindsey quickly.
"The overwhelming Law Enforcement support from so many agencies in the area to assist in locating and taking Lindsey into custody does not go unnoticed. Officers and Deputies from multiple agencies responded to this massive manhunt to assist and their dedication to taking a dangerous and violent offender into custody has made our community and the surrounding communities a safer place," said Owensboro Police in a news release.
Lindsey is being held pending extradition in Spencer County Jail.
Police say he's facing the following charges:
Robbery
Assault
Wanton Endangerment
Possession of handgun by convicted felon
Theft by unlawful taking of an automobile
Receiving stolen property