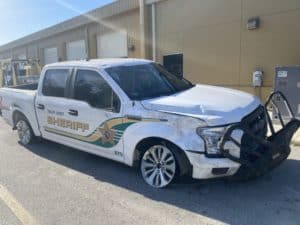 www.winknews.com
A Collier County man was arrested after deputies said he stole one of their patrol trucks early Wednesday.
Deputies responded to a call at a home on 31st Ave. NE in Golden Gate Estates, where a woman said the suspect, identified as Adji Merveille, wouldn't leave her property. He eventually fled, leaving a trail of blood from the woman's front porch into the woods, according to the report.
While K-9s tracked the man in the woods, a deputy discovered his patrol truck was not where he had left it, running and unlocked with the keys inside.
The truck was tracked to the 4000 block of Everglades Boulevard, where it was found with heavy damage. CCSO valued the truck at $50,000 when equipped.
Deputies said they found Merveille a few houses down and he was uncooperative. Deputies used a Taser on the man and he was taken to NCH.
The report states Merveille said he was having problems at home and had run away.
He now faces charges of grand theft auto and resisting officers.