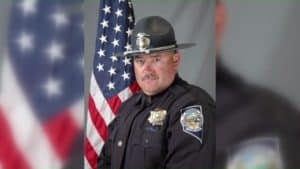 www.kolotv.com
 A White Pine man is in custody after authorities said he opened fire on a Nevada Highway Patrol Sergeant, killed him, then took his uniform and patrol vehicle.
It happened just before 6 A.M. Friday, March 27, 2020.
Investigators said Sgt. Ben Jenkins had stopped to assist a driver on US-93 and White Pine county mile marker 106, north of Ely.
The driver, later identified as 65-year-old John Dabritz, shot Jenkins, stole his uniform, then took off in the sergeant's patrol vehicle, authorities said.
Dabrtiz was found several hours later and taken into custody. He has a record of arrests going back to 1973. The weapon he used was not known.
Dabritz was arrested near Cherry Creek, about 18 miles south from the scene of the shooting.
The Nevada Highway Patrol said Sgt. Jenkins was an Elko native who devoted his life to public service and to serving Nevadans. He began working for the Nevada Highway Patrol in March 2008 as a Trooper in Jackpot and was promoted to Sergeant in Elko in 2017. Prior to NHP, he was a training officer for the Nevada State Fire Marshal Division, a crew supervisor for the Nevada Division of Forestry, an Assistant Fire Chief for the Spring Creek Volunteer Fire Department, and a veteran of both the Army National Guard and Air National Guard. In 2011, Jenkins received the Nevada Department of Public Safety's highest honor, the Gold Medal of Valor, which is presented to officers who perform an extraordinary act of heroism.
"Without question, Sgt. Jenkins was a hero to his community, his law enforcement colleagues, the State of Nevada and our country," said Director George Togliatti. "This is a tremendous loss for the Nevada Highway Patrol, his family, and everyone Sgt. Jenkins touched during his long and honorable career in public service. My thoughts and prayers are with his loved ones during this period of mourning."
Sgt. Jenkins is survived by his wife, his mother, four children, and five grandchildren.
He was 47 years old.
Nevada Gov. Steve Sisolak ordered flags on state property flown at half staff.