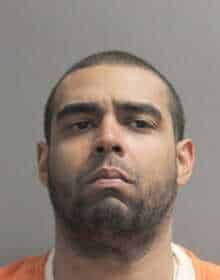 www.mccookgazette.com
As McCook police were attempting Saturday to arrest a man accused of stealing a car in Iowa, he managed to steal a police cruiser before finally being arrested near Max, Neb.
Two McCook police officers were treated at Community Hospital and released as a result of injuries sustained in the struggle and are recovering at home.
According to a release from the McCook Police Department, the agency was contacted Saturday by Des Moines, Iowa, police, who said they traced a stolen vehicle to the Economy Inn in McCook.
At about 6:45 p.m. Saturday, McCook police located the vehicle at the hotel with the suspect inside, but he was able to overcome officers' attempt to arrest him and enter one of the police cruisers at the scene and after another struggle in the cruiser, speed away in the police cruiser.
The Nebraska State Patrol, Hitchcock and Dundy County Sheriff's Departments were contacted and he was ultimately stopped and taken into custody near Max without further incident.
Cornelius Depri Perry, age 32 of Des Moines was taken into custody and lodged at the Red Willow County Correctional Facility. Perry is being charged with Theft by Receiving Stolen Property, Theft, Resisting Arrest, two counts of Assault on a Police Officer, and Operating a Motor Vehicle to Avoid Arrest.
"The McCook Police Department would like to thank the Dundy County Sheriff's Office, Hitchcock County Sheriff's Office, Red Willow County Sheriff's Office, and Nebraska State Patrol for helping to bring this situation to a safe conclusion. We would also like to thank McCook Fire & Rescue and Community Hospital for the care our injured officers received as a result of this incident," according to the release.