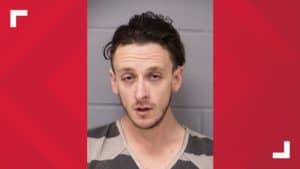 www.kvue.com
Austin police arrested a man they identified as homeless at around 5 a.m. on Sunday after he stole a police car and evaded arrest in it, according to an affidavit obtained by KVUE.
Police identified Raymond Henry Diehl, 31, while investigating a suspicious person call regarding a man checking car door handles at a parking lot located at 2101 S. Lamar Blvd., the document states
Police said they then released Diehl from their custody after determining he had not yet committed any crimes.
Shortly after releasing him from their custody, police said one of the responding officers heard noises coming from the direction Diehl had left in.
The officer parked his patrol car nearby and left the vehicle to investigate the backside of a business on foot, according to the affidavit. While checking the business, police said Diehl broke into the patrol car and drove off in it.
The officer alerted police in the area, who quickly located the stolen vehicle and engaged in a vehicle pursuit with the suspect.
The chase began near Menchaca Road and Bluebonnet Lane and ended on Forest Hill Drive, just west of Philco Drive. After which, police said Diehl continued to flee on foot and police were not able to locate him at that time.
While searching for Diehl near where the vehicle was left, an officer located him and placed him under arrest for evading arrest in a motor vehicle.
According to police, Diehl had also been arrested on Feb. 17 for evading arrest on foot.
Diehl is being held in the Travis County Jail on a $15,000 bond.