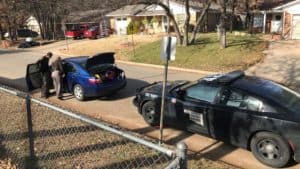 www.okcfox.com
Update: According to the Oklahoma Highway Patrol, a Trooper stopped a blue Toyota Camry around 11:45 am.
Once running the plates the Trooper discovered the car was stolen.
The Trooper was assisting the passengers in getting out of the stolen car when the driver of the stolen vehicle hopped into the Trooper's car and took off.
There was a short manhunt, according to OHP, but the suspect was found a short time later by a K9 in a home.
The suspect was taken into custody.
—
A man stole an OHP Trooper's patrol car during a stop where the Trooper was arresting him and a passenger for stealing a different car.
According to OHP, the Trooper had pulled over a stolen vehicle and was in the process of taking the passenger into custody when the driver took off in the Trooper's patrol unit.
The suspect dumped the OHP unit behind Western Oaks Elementary school and took off running they said.
Officials said the suspect was caught on the 2100 block of N. Wilburn Ave.
EMSA was called to the scene due to the suspect cutting himself while jumping over fences.