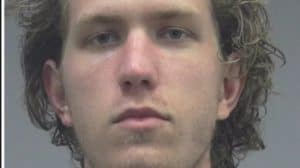 www.lawenforcementtoday.com
Once in a while, we report on stories that prompt the response "what in the world?!"
On Thursday, November 5th, a man, claiming to be on a "spiritual journey", hopped in a police car he came across, and took off. Luckily, police officers put an end to his journey rather quickly. 
According to the Alachua County Sheriff's Office, 20-year-old Duncan Alexander Smith came into the Gainesville Regional Airport at around 8:30 p.m. Thursday. Video surveillance shows Smith leaving the airport parking lot in the deputy's marked vehicle around 8:34 p.m.
About two hours later, the deputy, whos car was stolen, received a report that his credit card, which was left in his patrol vehicle, was being used in Columbia county. 
The Gainesville Sun reported that Sheriff's electronic surveillance showed the car heading southbound on I-75 in Alachua County. What makes the situation, and ultimately the charges worse, is the fact that there was a police rifle readily accessible in the passenger side of the vehicle. 
Shortly after, police were able to catch up to Smith, and take him into custody without incident.  
According to the arrest report, Smith said he was on a spiritual journey and needed to find a way home when he came across the patrol car on the airport's property. The report lists his address in St. Petersburg.
As per the report, Smith claims that he used the credit card to buy gas for the patrol car. 
Smith was charged with burglary of an authorized emergency vehicle, grand theft of a firearm and grand theft of a vehicle. Bail has been set at $130,000.
This is not the only time that a police vehicle has been stolen in the last two weeks. 
On October 25th, a suspect stole a marked police car in New Jersey, and lead police on a chase to Brooklyn, NY.
Police report that just before 12:30 a.m., the 32-year-old car thief stole a marked Bayonne Police Department vehicle, and headed towards Staten Island. 
That's when Port Authority police spotted the stolen vehicle on the Goethals Bridge and started to pursue the driver.
Once the driver reached the Verrazzano-Narrows Bridge, NYPD officers joined in the pursuit.
Police say the chase only lasted about a half an hour, and ended around 1 a.m., when the suspect crashed into an unoccupied parked car along 5th Avenue and 23rd Street in Brooklyn, NBC New York reported.
The driver was taken into custody and is set to face charges.