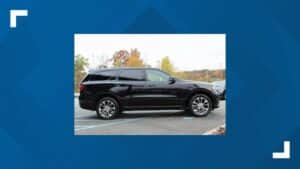 November 17, 2022
www.wfmynews2.com
One person has been arrested after a police car was stolen in High Point Saturday.
Police said an unmarked, black 2019 Dodge Durango equipped with undercover lights and a siren package was stolen at an outside vendor for repairs on South Main Street around 5 a.m.
The vehicle had a North Carolina license plate reading FMA-2836 with no weapons inside the car.
The unmarked police car was found around 1:40 p.m. Saturday.
Officials said anyone concerned for their safety during a traffic stop should continue driving the speed limit and proceed to the closest busy, well-lit area. 
Detectives said you can activate your flashing hazard lights to signal that you are aware of the officer's presence, and may also call 911 if you are concerned you are being pulled over by an unauthorized person.
Three other non-police cars were also stolen.
Police said three of the four cars have been recovered. Investigators said they are still looking for an orange 2022 Dodge Challenger.
The investigation is ongoing.