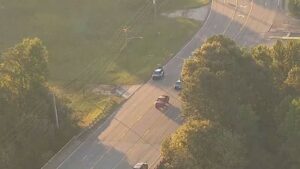 October 3, 2023
www.wsbtv.com
Lawrenceville police shot and killed a driver accused of trying to steal one of the officers' cars.
The shooting happened around 3 a.m. on West Pike Street near Old Norcross Road. The Georgia Bureau of Investigation confirmed that a driver died in the shooting. No officers were hurt.
Police said officers were conducting a traffic stop when a Kia Sorento sped past them. Police said the driver of the SUV did a U-Turn, drove toward the officers and got out of the car.
That's when officers said the man tried to take off in one of their police cars. Police told the man to stop and when he didn't, they shot him, according to the GBI.
The man died from his injuries. His name has not been released.
West Pike Street will be closed from Old Norcross Road to Langley Drive during the investigation.
The GBI said this is the 74th shooting involving an officer they have been called to investigate this year.