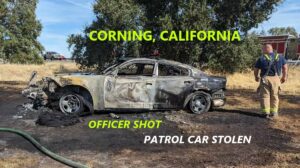 October 16, 2023
www.officer.com
A traffic stop on Interstate 5 took a violent turn Sunday when a man shot a California Highway Patrol officer, took the patrol vehicle, then crashed it.
Upon investigating a vehicle stopped at around 11:40 a.m. near the Chard Avenue overpass in Corning, a CHP officer ended up in a gunfight. The officer sustained injuries as a result of the shooting, CHP said.
The suspect proceeded to enter the patrol vehicle and head southbound on I-5. Continuing southbound, the vehicle eventually collided with a semi-truck, which caused both vehicles to head off the west shoulder and ultimately overturn.
Law enforcement officers arrived at the scene and arrested the suspect, whose name has not yet been released, without further incident. The officer, the driver of the semi and the suspect were all taken to local hospitals with injuries.
Because of the incident, CHP closed two lanes of I-5 at Chard Avenue and further south at Thomes Creek.
CHP said there are ongoing investigations regarding this incident, with the Tehama County Sheriff's Office taking the lead, and that additional information will eventually be released regarding this incident.