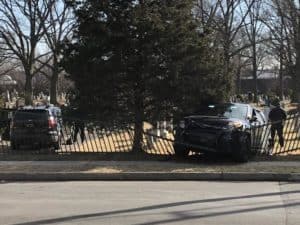 www.wfsb.com
A stolen car and police chase along the shoreline ended with a wild scene in West Haven.
That's where police say a teenager tried to take off with a police cruiser, hitting several officers.
It was all captured on video.
The eyewitness video, which was posted on Facebook, captured the chaotic scene.
It happened in the area of Campbell Avenue and Spring Street in West Haven around 11 a.m.
"He got into the police car, trying to get away, ran somebody over, and he ended up over there," an eyewitness said.
Police said they received word that two teenagers in a stolen car, allegedly used in a number of robberies and purse snatchings, got off I-95 in West Haven.
As police chased the stolen car, it reportedly hit several cars on Campbell Avenue.
That's when the driver ran off. As officers took the passenger of the car into custody, the driver returned and got into the police cruiser.
"Jump in a cop car. I've seen a bunch of kids stealing cars now adays, I would never think a cop car," said Kevin Anderson.
In the video, the juvenile is seen putting the cruiser into reverse and then speeding towards the officers.
Two officers were struck by the car and one had to use an evasive maneuver to avoid serious injury or worse.
"I don't know how someone can do something like that. It's a sick, sick world," said Sarah Shafiei.
The stolen police cruiser smashed through a fence and traveled through a cemetery before crashing into another fence.
That's when officers quickly took the teen into custody.
"I'm thinking about moving out here, I've been here all my life, I don't know. It's getting worse, day by day," Anderson said.
The two officers who were struck were brought to a local hospital for what's being described as non-life-threatening injuries.
There is no word on the exact charges the juveniles will be facing.