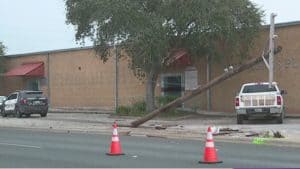 www.kiiitv.com
Corpus Christi police have arrested the suspect involved in stealing a police vehicle while a Peace Officer was helping a car that was stalled in the road yesterday.
36-year-old Luis Chavarria was found by police walking near Leopard Street around 1 a.m. today. Investigators had been looking for him after he fled the scene once he crashed the police vehicle into an electric pole. 
Wednesday
Police said Chavarria jumped into a police vehicle as an officer was helping push a car off of the roadway. As Chavarria was trying to get away, the officer held onto the vehicle and ended up being dragged for about 40-50 ft., according to police.
Chavarria would then crash into an electric pole and flee the scene near the 1200 block of Agnes St. The officer was taken to the hospital with non-life threatening injuries, officials said.
Chavarria has now been charged with aggravated robbery and aggravated assault on a Peace Officer with a bond of $120,000.
The AEP outage map showed fewer than 5 power outages in the area due to the pole being down.